How to Protect Skin Safely During Summer Fun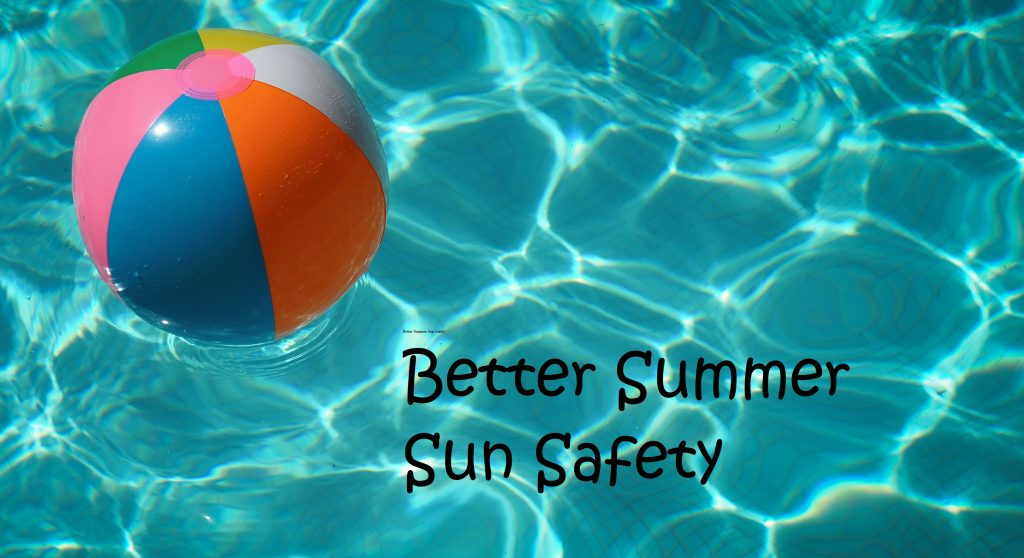 Be aware that sunscreen and swimming pools can contain hazardous chemicals
Sunscreen and swimming pools go hand-in-hand for summer fun, for sure! At the risk of raining on your parade (or at least on your sunny summer day), I caution you to pay attention to what's in your sunscreen and swimming pool!
I get lots of questions about sunscreen. It's a tall order to find something that protects kids (and adults!) from sunburn and lasts a long time, even after repeated exposure to water and toweling. Yet it's becoming more well known that most sunscreens contain hazardous ingredients.
Pools too use chemicals to reduce exposure to harmful bacteria that grow. I've evacuated a few pools in my lifetime that had an unfortunate dose of poop in them. So some kind of anti-bacterial action is really important!
Thankfully, it doesn't have to be complicated to reduce health risks associated with sunscreen and pool chemicals. In order to get you back out there in the fun, I'll keep it short and sweet for you.
If you just want the bottom line, which sunscreens are safest, go to EWG's Sunscreen Guide. They've done all the homework for you.
Wellness Mama has already written the perfect post about sunscreen ingredient safety. Head on over to her site if you want to know more about any of this. Basically, chemically based sunscreens have been linked with rising rates of skin cancer, many of the chemicals themselves are likely endocrine disruptors (interfere with cellular communication). In fact, many sunscreens have also been deemed a hazard to coral reefs and are being banned in sensitive areas around the globe.
Fill up your summer toolkit with these
Sunscreen should be a last resort. Protect skin with clothing (special SPF clothing is not required), shade and planning around the sun – reducing exposure when rays from the sun are their strongest. The EWG Sunscreen Guide outlines all of this too. I also take Wellness Mama's advice and protect my skin from within by avoiding excess sugar, processed vegetable oils and processed grains. Instead, I focus on increasing my intake of Omega-3 fatty acids, as in eating a can of sardines for lunch. Additionally, Vitamin C, Coconut oil, Vitamin D and Astaxanthin all help support healthy skin and reduce burning, according to Wellness Mama.
Vitamin C is really a great supplement for your summer fun toolkit, especially when it comes to exposure to chlorine in swimming pools. This week is swim camp for my daughters. The first day of class, even in a low chlorine private swimming pool, my oldest daughter had great discomfort from the chlorine after her ½ hour lesson.
Because skin is more like a sponge than a barrier, I choose pools cleaned with salt, instead of chlorine, whenever possible. Next best is a low chlorine pool. My favorite choice is a clean lake that hasn't been recently sprayed with herbicides.
The second day of swim class, I had her spray herself with a Vitamin C dilution and rub it into her skin. The discomfort she felt did not reappear. We use this preparation of Vitamin C before and after sun exposure too. It should be renewed every other day or so and kept out of the sun because Vitamin C oxidizes quickly.
Vitamin C Sun Spray
Protect skin from sun damage and chlorine
(As seen in Beth Greer's book, The Super Natural Mom, citing a study by Krispin Sullivan)
10% Solution of Vitamin C
Mix
4 oz Water (Aloe Juice or Rosewater)
1 teaspoon pure Vitamin C Powder (ascorbic acid)
*if a lotion is desired add 1 oz of vegetable glycerin
Add to spray bottle
Spray before sun exposure 1-2x/day
Respray after sun exposure
Another great layer of protection from pool chemicals is rubbing pure coconut oil in to the skin about 20 minutes prior to exposure. This forms a protective layer that blocks pool water and chemicals from being absorbed. My kids feel so much better this week once we got this routine down. Coconut oil, while not a means of full sun protection, also has an SPF of 4.
My kids love to swim all summer long! So we use a multilayered approach to protecting their skin. Shade, long sleeves, hats, eating less (waaay less) processed food, vitamin C and coconut oil all offer protection. When necessary we do use a safer mineral Sunscreen made by Badger.
Improving the quality of our summer fun is a great opportunity to reduce use of chemicals in sunscreen and swimming pools. Yet year round, families are exposed to hazardous ingredients in cleaning and personal care products. I'd love to work with you to reduce exposure to these, especially for the safety of your children. I help simplify this change to free you up to enjoy life more. Take a look at my consultation services at www.LightenUpSimply.com.