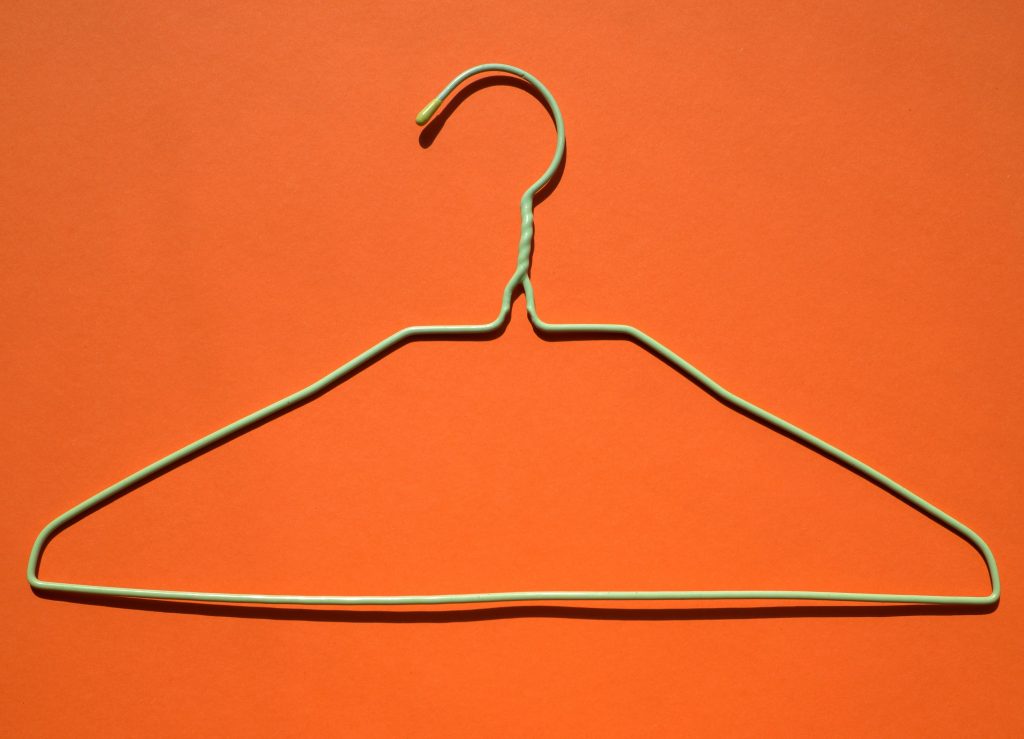 Put non-toxic clothing on your back-to-school list
Toxins come at us from a variety of consumer products, most of which we can't see or smell. One type of consumer product that contains many toxic chemicals that we use daily is clothing. Most people know to wash new clothing before it is worn. This is because there are manufacturing chemicals still on the clothing when we bring it home. Yes, the "new clothing" smell, due to manufacturing chemicals, is often perceptible. Have you ever wondered how much of it gets washed off? How are the remaining chemicals affecting my children's bodies? And once the clothing is washed, what happens to all those chemicals?
Let me tell you. They don't just disappear, they get washed down the drain. We get to wash it and forget it, but those chemicals still exist and now they are dissolved in water. As it's hard to know exactly what and how much, I've decided to exit out of this consumer loop of using toxic chemicals for my clothing and washing them down the drain – for health of the planet and for my family.
Andrea Plell of Remake.World puts it like this,
"Would you reconsider that little black dress if it put your body at risk for cancer? Unlike the nutrition facts on the back of our favorite foods, clothing doesn't come with a conveniently itemized list of ingredients. Instead the 8,000 synthetic chemicals used in fashion manufacturing, most of which contain known carcinogens and hormone disruptors, are kept undisclosed and hiding within the fibers of the industry's most sought out styles.
Fear not. We took a close look at the hazardous production methods and chemical cocktails that affect our environment–not to mention our own personal health. Toxic synthetics are apparent throughout the many stages of a garment: from the factory floors where workers are exposed to and breath in their fumes, to the runoff of dyes and corrosive finishing products that flow into our water sources and agricultural systems, to the leaching of poisonous substances into our largest organ–our skin–and deposited into our bloodstream upon every wear."
Chemicals used in clothing manufacturing, from the production of the fabric to its dyeing and finishing pose a risk to those who produce it, not just to the consumer. This Washington Post article gives a behind the scenes look at the true cost of clothing manufacturing and what newer, sustainable clothing brands are doing differently.
When I first met the owner and founder of RozeeCheeks she told me the story of how her infant son struggled with major skin problems. Her doctor said that organic clothing "might" make a difference, so she tried it. It made all the difference in the world for her son. And thus RozeeCheeks, a boutique for organic and ethically sourced baby clothing, was born. Hearing her story made me a believer in the presence of chemicals in clothing and its effect on kids.
Thankfully, we have options. We just need to know where to look. And for back to school, buying clothing that is manufactured sustainably can be quite easy – no more going from store to store, using up the last of your precious summer days. This kind of clean clothing is only a few clicks away.
Making Sure It's Clean. Non-Toxic Clothing Certifications
First, it's valuable to know a little about the textile certifications that are out there. I search for these certifications in product descriptions on Amazon and other websites when buying clothing. Organic cotton clothing is a good place to start, but it's not possible to know what the manufacturing standard is just by knowing that the fabric is organic cotton. (I wish we could assume that no one would process organically grown fibers with toxic chemicals, but I'd rather be safe than sorry.)
GOTS Certification
The aim of GOTS certification is "to define world-wide recognized requirements that ensure organic status of textiles, from harvesting of the raw materials, through environmentally and socially responsible manufacturing up to labelling in order to provide a credible assurance to the end consumer."
Oeko-Tex Standard 100 Certification
The Oeko-Tex Standard 100 certification "assures manufacturers, sourcers, brands, retailers, and consumers around the world that certified products meet the strict limit values for harmful substances of STANDARD 100 and that these substances are not present in critical concentrations. OEKO-TEX® originally tested for about 100 chemicals like pesticides, carcinogenic colourants and heavy metals but today STANDARD 100 covers a wide array of several hundred harmful substances." Pretty awesome, right?
Read more about Oeko-Tex Standard 100 here.
I've heard it over and over again, products grown, produced and sold in the European Union meet a higher standard of safety than products sold in the United States. Whether its packaged food products, beauty products or clothing, regulations in Europe safeguard the consumer better. Since GOTS certification and Oeko-Tex Standard 100 are globally recognized, it means the same thing in the United States as it does in Europe and elsewhere. Brilliant. I'm sold. And I'm very grateful for this kind of system that safeguards me and my family wherever I purchase products.
I'll admit, it's easier to find baby clothing that is produced safely and sustainably. But I've watched the choices of safer baby clothing grow over the last 10 years, so I believe that children's clothing options are increasing as we speak. So who is selling GOTS and Oeko-Tex Standard 100 kids clothing?
Where to Find Non-Toxic Clothing
You can google it, and find all the high end sustainable kids clothing, but I don't believe their prices work for everyone. I believe that all kids, no matter what their family income, deserve to have non-toxic clothing. So, below are the brands that I'm familiar with for school kids' sizes. Then, keep reading for additional non-toxic clothing strategies.
PACT has a variety of girls and boys clothing, printed tees, leggings, hoodies, shorts and underwear. I can testify that their customer service is outstanding after a recent order I made that included a misfitting size of underwear. Plus, as an added bonus, each product description tells you how much water was saved by choosing an organic cotton product (since organic cotton consumes very little water compared to conventional cotton). Limited availability on Amazon. Also reportedly found at Target. Shop their website directly for best pricing.
Caomp is available on Amazon. GOTS certified, girls organic layering essentials. Their undershirts and leggings are comfy and long lasting.
Hanna Andersson is committed to safe, beautiful and durable clothing for kids. According to Wikipedia "almost 60%" of their clothing is Oeko-Tex Standard 100 certified. Other places indicate a higher proportion of Oeko-Tex certified clothing. Check back for frequent sales!
Art&Eden has unique GOTS certified children's clothing, sustainably made, using organic cotton & low impact dyes up to size 10. Also with some availability on Amazon.
Remember that shopping for SALE items keeps the cost of high quality clothing down. Additionally, shopping in seasons that typically offer discounts is helpful too – like back-to-school, holiday or late winter.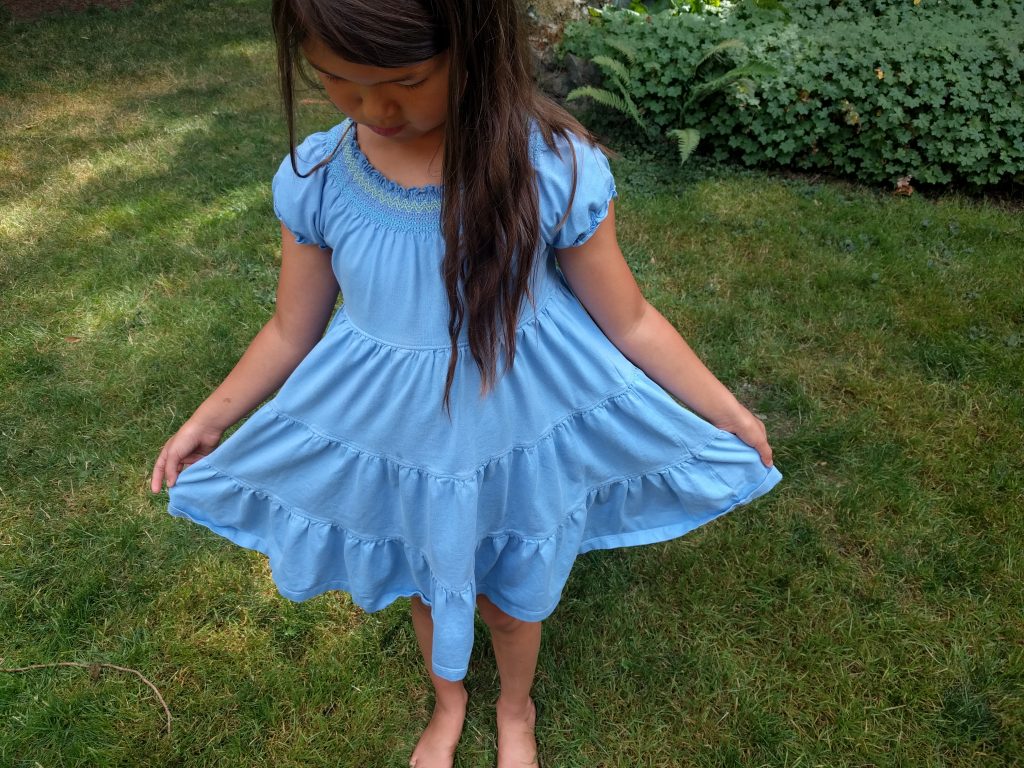 More Non-Toxic Clothing Strategies
Another part of my strategy for non-toxic clothing for back-to-school is to choose previously worn clothing. A friend of mine gave me the best of her three daughters' clothing for several years. This really kept clothing purchases to a minimum! While it's not sustainably produced, this clothing had been washed many many times, presumably reducing chemicals every time it was washed. Plus wearing previously worn clothing reduces demand for new clothing, thus reducing the use of chemicals in manufacturing.
One drawback to sourcing previously worn clothing is the presence of chemical fragrance that typically accompanies it. (Because most people wash their clothing in fragranced detergent.) I always wash clothing with fragrance free soap because fragranced laundry soap carries with it a host of risky chemicals, including the undisclosed ingredients in the fragrance and the phthalates that cause the fragrance to cling to clothing for a long, long time.
When my son was born, I needed clothing for him and didn't want to pay the price for every garment to meet my non-toxic standard, so I did the next best thing, I asked around for baby clothing that was organic and/or washed with detergent that was fragrance free. Guess what? I was blessed to find someone I didn't even know who understood the heart of what I was asking for. She generously provided previously worn clothing for the first two years of his life. It was all fragrance free and I saved a lot of money.
I'll be adding to what she gave me with GOTS or Oeko-Tex clothing. Her gift blesses us every day (and blesses my son with better health now and in the future). I'll be sure to find a way to pay this forward. I recommend teaming up with some other like-minded parents to pass along the benefits of sharing clothing.
Toxicfreefuture.org makes these suggestions for non-toxic back-to-school clothing as well:
Opt for hand me downs or shop at second hand stores as repeated washings may reduce chemical load from the finishing process.
Choose screen printing designs carefully to avoid those with a raised, plastic feel.
Try to avoid clothing with metal parts or ornamentation especially if the metal part can fit into a young child's mouth.
Forego clothing with wrinkle free, anti-microbial and stain-resistant labeling.
Always wash new garments several times before wearing to reduce manufacturing and shipping residuals.
Patronize retailers and manufacturers that have made a commitment to reducing their chemical footprint.
The final part of my strategy is centered on simplicity. Less is more. Or as in the case of clothing, fewer pieces is better. Spend your money on what matters to you, on higher quality products that contain less non-toxic chemicals. If that means you purchase less, let it be. Kids can often wear clothing more than one time before it is washed.
When my daughters were ages 3 and 5 I required them to wear clothing for 2 days in a row before we washed it. They were both in school at the time. This reduced the amount of clothing we needed and reduced laundry by half. It was genius. This strategy was born out of necessity – I was severely chronically ill at the time and it helped reduce my work load at home! – but I have returned to it in part as my children are older (and I am now well), encouraging them to only put clothing in the hamper that can not be worn again. This saves us in purchasing additional clothing, reducing the use of water and electricity for washing and drying, and in time spent washing and putting away clean clothing. It also makes it easier to decide what to wear each day. It's a win-win for each of us since my kids now put away their own clothing. (Full disclosure: in my opinion, my kids still have too much clothing, but I'm working to reduce it as they grow.)
The bottom line is this: Spend your time and money on what matters to you. For me, that means a commitment to my children's health (and the environment) both now and in the future. Sourcing non-toxic school clothing is the way I level up my game of reducing toxins at home for their safety and well-being. Go ahead and get out in front of the back-to-school shopping crowd by choosing non-toxic, clean clothing.
Afterall, clean clothing is only clean if it's non-toxic too.
Want to learn more about sustainable fashion? Get the unCover Handbook, a Beginner's Guide to Sustainable Fashion
Want to further reduce toxic products used at home? Schedule a consultation with me to do it quickly and effectively. www.LightenUpSimply.com